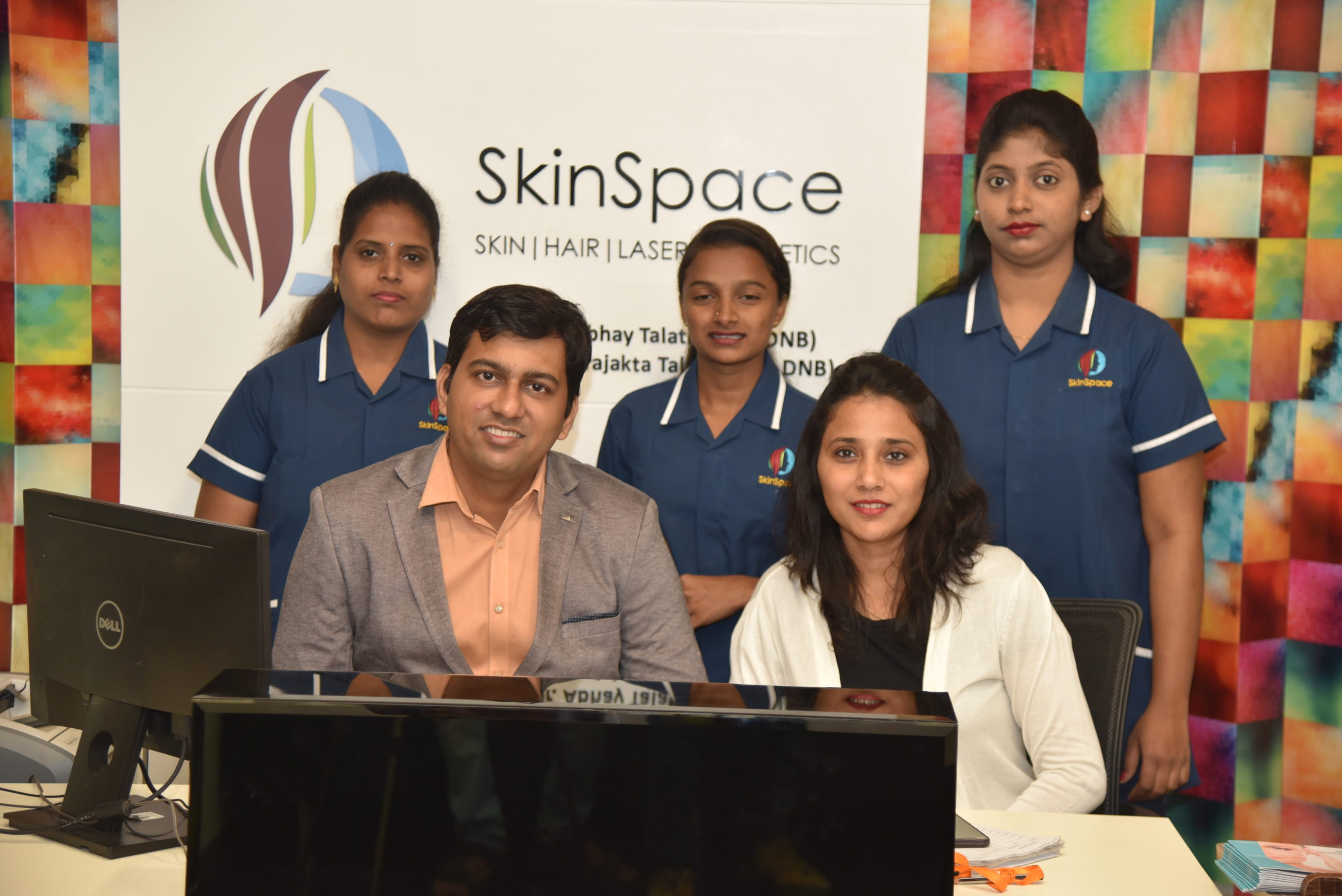 ABOUT SKINSPACE CLINIC
---
VISION : Our aim is to become the most trusted partner to bring out the best of skin, hair and aesthetic results in each and every one of you through our expertise and world class technology
MISSION We provide expert care and exceptionally effective solutions to each one of yours skin, hair and beauty concerns with an honest, transparent and personalized approach

SKINSPACE CLINIC
---
---
SkinSpace Clinic was established as a humble beginning in the year 2011 at Goregaon with the concept to providing best of the solutions for skin, hair and various beauty concerns of people. Soon after establishment SkinSpace Clinic became one of the best skin clinic in Goregaon catering to thousands of clients seeking skin, hair and beauty treatments with two highly qualified, passionate award winning skin specialists

Over the years SkinSpace Clinic has been on forefront of introducing and performing the most advanced skin, hair and beauty treatments. SkinSpace Clinic has proudly pioneered and introduced following treatments in India 1) Regenera Activa Treatment ( First Clinic in Mumbai to introduce it) 2) Silhoutte Soft Thread Lifts ( First Clinic in Mumbai to introduce it) 3) Arthrex PRP System 4) Dysport Injections In the process of striving the best results for all our clients we have acquired all the world class technology for cosmetic treatments, to name a few 1) Spectra XT Dual Tone Q Switched ND YAG LASER ( USFDA cleared system to treat pigmenation) 2) Endymed Pro Platform : USFDA cleared and one of the best micro needle RF and Skin tightening system for treating scars, stretch marks, excessive sweating and aging 3) Linscan Diode Laser for Hair Reduction ( German Linear Scanning Technology) With a perfect ambience, personalized client care and result oriented treatments SkinSpace Clinic is a most sought after destination for care today

Know Your Experts
Dr.Abhay Talathi
Dr. Prajakta Talathi

---
Oily and Dry Skin100%

Acne/Pimples & Pimple Marks100%

Skin Care for Children100%

Psoriasis100%

Moles and Skin Tag Removal100%

Leucoderma100%
Hair Fall Problems100%

Dandruff Treatment100%

Premature Graying100%

Botox100%

Fillers100%

Skin Rejuvenation100%
Owing to expertise of our doctors SkinSpace Clinic had started advanced cosmetic procedures like Botox injections, Dermal Fillers ( Juverderm, Restylane etc.) injections since the beginning. Owing to our facility and results SkinSpace Clinic has a lot of regularly visiting Indian and NRI clients from all over the world. We take pride in our loyal Indian clientele and inbound global clientele hailing from Australia, USA, South Africa and other countries. Our clients are highly satisfied with the care and treatment they get at SkinSpace Clinic, which further makes us stand out as one of the best clinics for skin and hair treatment in India.

SkinSpace Clinic is also established as a training facility for young doctors in India wanting to learn advanced cosmetic treatments like Botox, Dysport, Dermal Fillers, Thread Lifts etc. Many doctors across the year visit SkinSpace Clinic to learn from our experts.

Located at Goregaon West, Mumbai, SkinSpace Clinic provides personalized solutions for all your skin problems, from the simplest to the most complex.